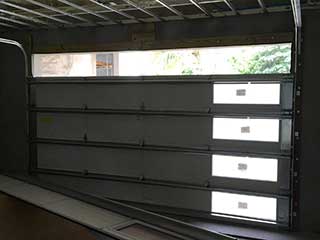 A lot of name brand garage door manufacturers nowadays use rust and corrosion resistant materials, which allow their products to last for a lot longer than they used to. Still, resistant doesn't mean proof, and because your garage door panels are always exposed to the elements and outside weather conditions, they can still develop these issues over time. There are, however, things you can do to reduce or prevent the appearance of rust, rot, and corrosion.
Clean It Well And Clean It Often
If you have a wooden garage door or a steel one doesn't matter, as both could benefit from being regularly cleaned. Doing this won't just help protect the panels from rust and rot, it will also maintain their curb appeal. There are other parts that you may want to address while you're at it, not just the panels. Your garage door springs can do with some regular lubrication to keep their performance optimal, as can the and the rollers. The tracks should not be lubricated, but they should be cleaned to prevent a blockage of debris from accumulating. Even if you have an aluminum garage door, which does not require a lot of maintenance, you should still clean it every so often to keep the panels in a good condition.
Make Regular Repainting Efforts
A wooden door needs to be applied with a fresh coat of pain quite often, but even if you have a steel or an aluminum one, if you want your door to look nice and hold up well, you should repaint it every few years regardless of the material of its panels. Before you do that, make sure to scrub the surface of the panels and remove any peeling paint or sections of rust or rot. Before you proceed to paint the panels with a color of your preference, you should apply a protective layer of a special coat that would make the material more resistant to moisture. Don't forget that all parts need special attention, especially during extreme temperatures. That means that before winter arrives, you'll need to pay your door some extra attention and make sure that it's ready to take it on.
Need More Help?
If during your painting or cleaning ventures you end up discovering a problem, reach out to our team at Garage Door Repair Grand Prairie and let our technicians handle it safely and quickly.