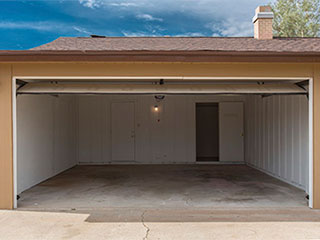 Although no garage door is completely silent as a church mouse, today's models can get pretty close. Modern systems are much less noisy compared to their predecessors, but they can still experience some issues that will cause them to become noisier than they're supposed to be. The main reason the door is even a little noisy in the first place is due to the friction between the different metal parts involved in its operation. The rollers that move along metal tracks, the coils of the springs that twist and grind against each other, and the panels and hinges are all responsible.
Take Care Of That Chain
The most common cause of loud noises is the chain drive garage door opener. If you don't have a device of this type, then this wouldn't be an issue, but if you do, you probably know how loud this type of unit can be. The noise can get louder if the chain is rusty and isn't properly lubricated. To prevent this, make sure to lubricate it at least once a year. It's best to use a product that the manufacturer recommends in your owner's manual. If you find the sound annoying even after cleaning and lubrication, you should consider replacing the existing unit with a chain drive electric operator which is the quietest of all types.
Don't Forget The Springs
The second most common cause of noise is the parts of your door that are under the highest amount of stress. We're talking about the springs, of course. These metal coils suffer from a lot of wear and tear, and they will get noisy really quickly if they aren't properly cared for. Lubricating them is incredibly important, as aside from reducing their noise output, it also helps them work more efficiently. Sometimes spring adjustment can also be required, but this is a more complex task that needs to be left to the experts.
More Hardware Culprits
A lot of times, rusty or worn garage door rollers are responsible for the noise. Metal ones can be applied with some lubricant as well, but they will gradually degrade, just like every component does. You could get them replaced with nylon rollers, which are especially silent. They won't last as long, however, but they will be very quiet. Dents or bending in the tracks can also be the causes of this issue, as they will force the rollers to grind against them. In this case, you'll probably hear scraping sounds, and the only way to get rid of them is to get the tracks straightened, or realigned if they got out of position.
Don't Take Chances
If while you're lubricating or cleaning your door you come upon a complex issue, or if you decide that some noisy part needs to be replaced, don't try to handle things by yourself. Replacing things like frayed cables or roller stems can be very dangerous if you don't know exactly what you're doing. Our specialists at Garage Door Repair Grand Prairie can help you with any type of problem.