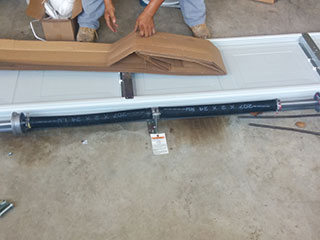 Attempting to handle garage door springs yourself can be very dangerous - if they suddenly break, they can fly out suddenly, causing damage and possibly injury to anyone in the vicinity. Instead, contact us so we can replace or adjust your springs in a safe way.
How Torsion Types Work
There are two main types of garage door spring: torsion and extension. Torsion springs usually come as one of four different types: Standard, early set, steel rolling and torque master. Standard torsion springs are the most affordable and are frequently used residentially. They are located directly above the door opening and have a metal shaft running in the middle to support the spring. Lighter or standard weight doors will probably only require one spring while heavier doors may need two. Early set torsion springs are also used residentially. With this type, the spring is located in the center of the torsion shaft. Steel rolling door torsion springs are more commonly used for larger, commercial doors. They have a torsion barrel with several springs located inside. The barrel supports a rolling door. Lastly, the torque master system is used only with a particular brand of door and consists of an oval hollow tube containing the springs.
Learn More About Extension Springs
Extension springs come as one of three popular types: open looped, double looped, and clipped end. Open looped springs have a looped wire at their end, making them easy to change. Double looped springs have two coils, meaning they're potentially stronger than open looped. Clipped ends place less stress on the spring itself and are often seen as the most durable type of spring.
Lubrication & Adjustment Services
Like all moving parts, springs need to be well lubricated to work well. Our team will use a high quality lubricant, such as something with white lithium grease as a base.
ll springs work under considerable tension, if they become too loose, they may become dangerous and break suddenly, causing the door to fall shut. During our maintenance services, we'll also check if any adjustments are needed.
Contact Us Today
Whether your springs are in need of repair or maintenance, contact us to inspect, adjust or replace them. We'll be happy to help you!
We also offer:
Garage Door Cable Replacement
Belt Drive Opener Installation
Garage Door Remote Clickers
New Garage Door Installation